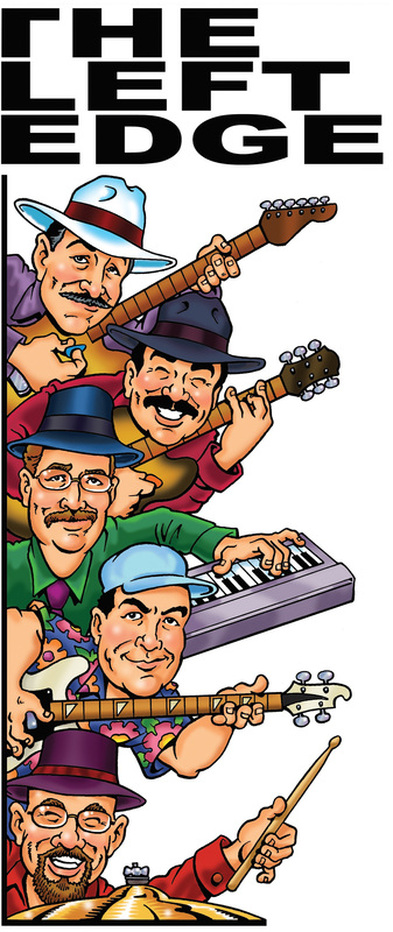 ---
---
OUR GIGS
Saturday, October 4th
Phoenixville Lunch Truck Day
playing at an undetermined location
on a Phoenixville Street
Lot's of Fun,
Good Food and Drink,
good people and a
GREAT time
12:00pm (high noon) till 3:00pm




---
Saturday, October 4th
Casino Night to benefit
Christ the Teacher Catholic School
2451 Frazer Rd
Newark, Delaware
7:00pm till 10:00pm
http://christtheteacher.org/
---
Saturday, October 18th
OUR FIRST POCONO area Performance
Dinner DANCE
OPEN TO THE PUBLIC
A Great opportunity to relax in the Poconos
Dupont Hose Company
308 Main Street
Dupont, Pa
Doors open at 6:00pm
Band starts 8:00 pm – 11:00 pm
Tickets must be purchased ahead of time
$32/person
includes buffet dinner, beer, wine and soda.
Liquor and mixed drinks also available for purchase..
For Tickets: call Bill at 570-457-7665
or email
theband@theleftedge.com
---
Saturday, October 25th
National Multiple Sclerosis Fundraiser
MONSTER MASH BASH
Union Jacks Inn on the Manatawny
6:00-10:00pm
$35 per person
($45 at door)
additional information 610-724-4456
to purchase tickets visit
http://monstermashbash.ezevent.com/
---
Friday, October 31st
VFW Post 5956 (Manheim, PA)
149 S Charlotte St
Manheim, PA 17545
8:00pm till 12:00am
Saturday, November 1st
St Gabriel Lodge
Membership appreciation night.
This is for members only
for $10 (normally $20) you can become a member
7:00pm to 11:00pm
525 Jefferson St, Pottstown, PA 19464
Cross Streets: Between Fairview St and Grosstown Rd
(610) 326-4137


WEDNESDAY, that's right!!
WEDNESDAY, November 26th
The night before Thanksgiving.
You're off tomorrow SoO.....
SandTrap Grille
8:00 till 12:00
765 N. Lewis Rd.,
Limerick, PA 19468
610-495-6945
click on The SandTrap Grille
---
NEW YEARS EVE
December 31
Celebrate with The Left Edge
Bordentown Elks Lodge #2085
11 Amboy Rd (off Rt 206)
Bordentown, NJ
Open to Public
Dinner,
4 hour open bar,
The Left Edge
plenty of rooms in the area
FOR TICKETS PLEASE CLICK THE LINK
Tickets can be purchased using paypal or credit card
http://www.bordentownelks.org/
---
Sunday, May 24th 2015
WEDDING BELLS ARE RINGING
The Left Edge is playing.
when the two come together it's magic!



---
Saturday, February 14th
Valentines Dance
Dupont Hose Company
308 Main Street
Dupont, Pa
Details are coming
---
Saturday, June 6th
Joey O'Neil
Memorial Golf Tournament


Saturday, June 6th
42nd IHGC Invitational Golf Tournament
Indian Hills Golf Club
1167 Old Reading Road
Paxinos, Pa.
http://www.ihgtc.com/
---
Friday, August 7th & Saturday, August 8th
Kettle Creek Music Festival
The Left Edge on Friday
Music in the great outdoors
http://kcmusicfest.com/
---
Saturday, June 13th
Upper Uwchlan
6th Annual Township Block Party
6:00pm till Fireworks
Route 100 (between Byers Road & Park Road)
Village of Eagle, Upper Uwchlan Township
Highlights of the block party:
•Fireworks at dusk
•Live music and entertainment
•Family fun
•Variety of food selections
•Kids activities
http://upperuwchlan-pa.gov/index.aspx
---